CARLSBAD, Calif. – September 12, 2017 – On Saturday, September 9, over 500 generous music and arts patrons and GRAMMY® award-winners Albert Lee and Cindy Cashdollar propelled NAMM's Museum of Making Music (MoMM) to one of the most successful benefit concerts in the museum's history, welcoming over 500 patrons and raising nearly $30,000 for its continued efforts. The annual "Play it Forward" evening benefit concert, held at San Diego's Irwin M. Jacobs Hall, featured lively performances from Lee, an acclaimed guitarist, and Cashdollar, a steel guitar, lap steel and dobro virtuoso, backed by a full band of musicians. Funds raised from the pairing of musical innovation and inspiration will go to support the museum's mission to offer educational immersion opportunities, exhibitions, hands-on experiences and live performances that inform and inspire guests as they learn how musical instruments impact popular culture and connect lives.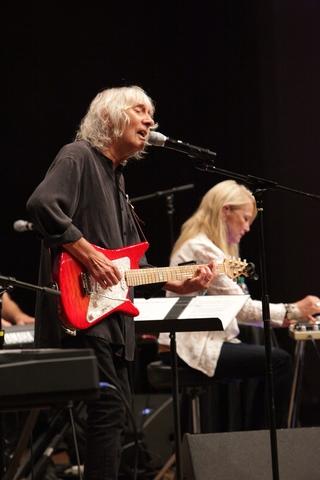 Albert Lee and Cindy Cashdollar
(Photo: Tim Whitehouse)"This event went above and beyond anything we were hoping for and would not have been possible without the generosity of our patrons," said Carolyn Grant, Museum of Making Music Executive Director. "The impact of tonight's event will ripple through our community with more children than ever before having access to museum programs." Albert Lee added, "I've played thousands of shows all across the world and I can tell you, this one was filled with a ton of give-back energy and a whole lot of heart!"
Patrons of the evening enjoyed a two-hour performance of inspiring musicianship through the harmonious melodies from the likes of Albert Lee, Cindy Cashdollar and band. The nearly two-hour long set started with a boisterous cover of Fat's Domino's "I'm Ready," followed by a more recent Lee hit, "Two Step Too," and wrapped with the multi-decade favorite, "Country Boy." Two-time Grammy® winner Lee is one of today's most celebrated guitarists, known for his fretwork, hybrid picking technique, and lighting speed. Cashdollar, a five-time Grammy® winner in her own right, is equally accomplished, having playing alongside the likes of Ryan Adams, Bob Dylan and Dolly Parton to name a few.
Donations raised at the gala will help offset the museum's annual operating costs as it continues to provide access to visitors wishing to discover a century of instrument innovations that shaped American popular music. Additionally, the museum's year-round music education programs are crucial to thousands of children, adults and seniors in San Diego County. The Museum's signature programs include the funding of a scholarship that enables fixed-income adults and seniors the opportunity to learn a musical instrument, as well as the museum's annual Title One Fieldtrip Program that provides free access to the museum for low-income students from Carlsbad and the neighboring communities of Vista, Oceanside, San Marcos and Escondido.
Coming in October and running through April, 2018, the museum's "FLOATING STRINGS: The Remarkable Story of the Harp Guitar in America," exhibition of harp guitars ranging from the 1860s to today. NAMM's Museum of Making Music displays over 500 vintage instruments and hundreds of audio and video clips from industry luminaries for the more than 40,000 visitors who attend each year.
Photos are available for editorial use. Please credit Tim Whitehouse for MoMM: https://www.dropbox.com/sh/h7vbrbwq7mgcztq/AAAlJuvg4W9yRnuSBo7Y_9tPa?dl=0
Media Contacts: Chalise Zolezzi / chalisez@namm.org / 760-438-8007; Jeanne O'Keefe for MoMM: jokeefe@lippingroup.com / 323-965-1990